This is my layout for Ali`s Challenge, journaling translates :
I have always been the family photographer, and everytime I film or take a picture to the amusement of my family my left eye is half closed and trembles slightly on its own.
Thank you for looking !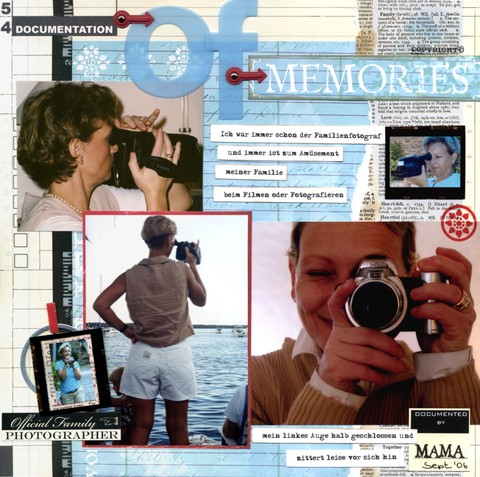 Und hier für unsere deutschen Leser :
Dieses Layout hatte ich gerade fertiggestellt als der aktuelle Newsletter von Ali Edwards in meinen Postkasten kam. Ich dachte sofort: das passt ja ausgezeichnet, und deshalb die kurze englische Notiz oben. Diesen wöchentlichen Newsletter kann ich sehr empfehlen, man kann ihn auf Ali`s Blog kostenlos abonnieren. Jede Woche hat sie neue Inspirationen und eine neue Herausforderung, Challenge genannt. Diese Woche sollte man ein Layout zum Thema " wie fotografiere ich" machen. Unter der Kommentarfunktion auf Ali`s Blog kann man dann den Link zu seinem Layout posten.
Ich habe folgendes Material verwendet :
Patterned Paper: 7Gypsies und Narratives by Karen Russell
Photo Turns und Sticker: 7Gypsies
Acetate Letters: Heidi Swapp
RubOn, Negative Strip und Sticker: Narratives by Karen Russell
Metal Rimmed Tag Clear: Office Supply
•••• •BARBARA